The Second NASA King Air is Complete
Steve and the boys worked hard and long on getting this second aircraft out the door in a timely matter.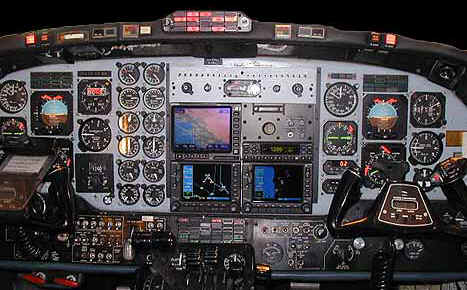 In fact, they focused on the aircraft so much that they didn't have the time to take all the pictures they should have. Steve made a wise decision, he gave Kevin the responsiblity to manage the pictures and jobs in progress in future installations, thus the next job in progress should be covered much better on the website. The panel layout came out just like NASA wanted, both aircraft are exactly the same. Each aircraft has dual GNS530's, MX20 which is also a display for the radar, SkyWatch traffic and WSI weather and a King marker beacon. There are some special switches on this aircraft that you wouldn't find on the typical King Air. The GTX330 Mode S transponder was installed, NASA elected to keep the tried and proven Collins DME 40 and ADF 60. The radar was upgraded to the Honeywell 2000 series which will work with the Garmin MX20 MFD. A couple of Garmin GAD42's were installed to aid in the operation of the RMI's and other interface issues.
NASA test flew the aircraft for well over an hour, checking to verify everything was working as it should. No descrepencies were found. Retrofits of this size take a lot of planning and work; again, Steve and his boys came through. During the middle of an installation of this size I often found myself questioning why I would take on such a project, no doubt working in unpressurized, piston aircraft is a lot easier and less stressful. But when I looked at the end results I was always glad I took the project, I'm sure Steve feels the same about the NASA King Air's.