The Crinklaw Farms Baron
I had the privilege of meeting Dave Crinklaw and a couple of his family members. From what I could gather, they all flew the Beech Baron; in fact, the Baron was operated on a FAA 135 air taxi certificate. This meant that any avionics installed in the aircraft was going to be inspected constantly by the FAA.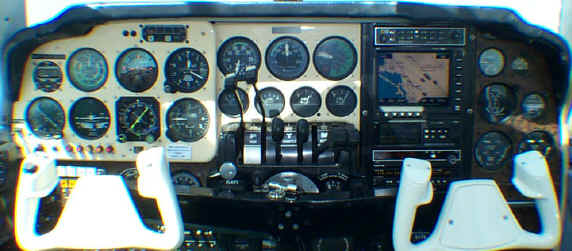 Mr. Crinklaw knew all the paperwork would have to be in order and a quality installation was a must; after all the FAA would be giving check rides in this aircraft, it had to be correct down to the last placard.
The Crinklaw Farms Beech Baron had a dated old King KX-175B radio stack that was installed around 1980. While this avionics package had served them well throughout the years, it was starting to show it's age. Intermit problems along with frequent trips to the avionics shop were plaguing the Baron. Mr. Crinklaw realized this was no way to run a charter operation. The owners stopped by one day to discuss what their needs were and wanted to know what I would suggest. I mentioned that we should look at an avionics package that not only was reliable but one that one that was upgradeable when future products were available. After much discussion we decided on PS-Engineering audio panel, the monster size MX 20 MFD, GX 50 GPS, two SL 30 nav/coms and the King KT-76C transponder. Dave kept the existing King KR-85 ADF because there was room in the panel. We also installed a King KI-209 nav indicator for use on the second SL 30 nav/com.
This aircraft flies almost on a daily basis due to being a charter aircraft and the Crinklaws couldn't be happier with the aircraft. Dave can't imagine how he ever flew without the MX 20 multi-function display.

Dave says the situational awareness is a big asset in IFR not to mention how helpful it is just using it VFR. The owners really like the avionics stack in general. The SL 30's give them more information about the VOR's than they ever could have imagined. The MX 20 will highlight the VOR you have selected on the SL 30 and show the distance and radial you are on with relationship to that station. Now the MX 20 has the obstructions database inside and the Crinklaws couldn't be happier. I talked to Mr. Crinklaw yesterday and he is very pleased with his new avionics stack. Dave went on to say that I helped them pick a radio stack that has more features than they ever dreamed, the price was fair plus the job was completed on time. For a air charter operation, time is very important. Anyway, Crinklaw Farms is pleased with their new radio stack and that, my friends, is what it's all about.