Ken Foster's Fire Breathing Cessna 182

Avionics West completed this custom installation in Febuary 2000.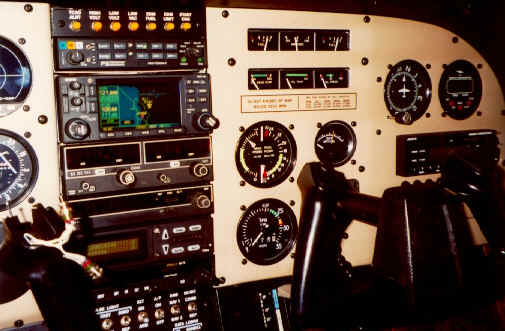 The aircraft is a 1976 Cessna 182. But wait, how can that be! The manifold pressure gage shows fuel flow also and the tachometer ARC's don't match the 182 book. This is Ken Foster's Cessna 182. This machine has a fire breathing 300HP Continental Engine under the bonnet. Does it go? Heck yes. Ken flew me around while we were checking out the avionics. This is one machine that you start pulling the power back as soon as you lift off. The climb on this buff 182 is beyond words. Ken's aircraft also supports a fairly new paint job and the interior is really nice. Mr. Foster lives near Truckee CA. so the extra power can come in handy at those altitudes in the summertime.

When Ken delivered the 182 to Avionics West the instrument panel was the normal plastic Cessna %$#*!@ and the radios were TKM slide-in replacements. Ken, Tom Knoll, Dave Bost and myself worked for several months via e-mail to design the perfect panel for him and decide which equipment best suited his needs. Ken's thoughts were, "Let's plan everything out before starting". I couldn't have been more supportive of his way of thinking. Finally, a plan was decided, Ken dropped off the flying machine and work started. Most of the equipment was at our shop before the aircraft arrived, thus down-time was at a minimum. The boys installed a stereo/CD player (FAA/PMA Approved), PS-Engineering audio panel, Garmin GNS 430, King KX-155, King KN-64 DME, RYAN TCAD, Strikefinder, Sandel HSI, King gyros, JPI instrument monitoring, several Davtron gagets, S-Tec System 30 and a host of other goodies too many to mention. The instrument panel lay-out was much as Ken desired. We added special annunciator lamps at the top of the radio stack At the bottom of the radio stack are switchs for items such as DME channeling, recognition lamps and sorts. All the new circuit breakers were the pullable type. Just about any switch that could be is on the yokes such as the S-Tec System 30 control switches. Ken made a special trip to Santa Maria, via his friend Steve Swaggard just to pick out the instrument panel color.
The only real headaches we've run into is getting the cell-phone to work through the audio panel (on the ground only, of course).

Ken has made a trip to the south and several other cross-countries and is loving the new panel more every day. Ken does have some alternator noise but we will slay that monster when we get the machine later. What did it cost? Not as much as you would think. Ken planned the job wisely. Some of the equipment such as the KN-64 DME he purchased used and saved a bundle by doing so. The complete job was planned out well in advance of receiving the aircraft, thus few changes occured during the installation and that kept the cost down. This is without doubt the nicest Cessna 182 I've ever seen. The only thing wrong with this aircraft is that is isn't mine. What's Ken next gaget going to be? My guess he will slow down on getting goodies for the 182 for awhile and kiss up to his wife for all the money he spent:-)