The proud owner of this Mooney Ovation is Dr. Angel Iscovich. For the last couple of years Avionics West has maintained the King avionics that was installed prior to what you see here.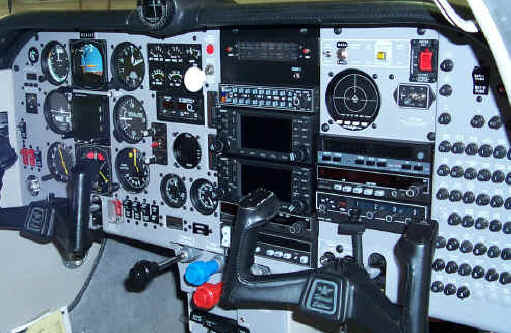 Finally, Dr. Iscovich just had to have a MFD in fact he purchased three of them. We installed dual Garmin GNS 430's along with the Sandel SN 3308 HSI. Dr. Iscovich had a great idea. Why not make the number two navigation indicator his original King KI-525A. No problem, the original HSI went to the #2 position and the Sandel filled the primary spot. This is a win/win situation. Should the Sandel ever go dark, Dr. Iscovich can use the second HSI to finish the flight. The Shadin fuel flow is integrated with the Garmin GNS 430. The Sandel Electronic HSI presents heading, portions of both 430's, the ADF, DME, radar altimeter, markers and a host of other goodies.
Well, you think flying couldn't get any better than this but it did for Dr. Iscovich. He's now the proud owner of a almost new Piper Malibu. I'm sure any day now he will call wanting to upgrade the new Piper much like his old Mooney. Doc, flew this equipment in his Mooney for sometime and really enjoyed it. The panels did take some planning to get the equipment in such a small space but we did it!