John Shelton's Custom T210 Panel
John enrolled on our Garmin GNS430/530 training class and after working with the 530 for two days, decided it was the box for him.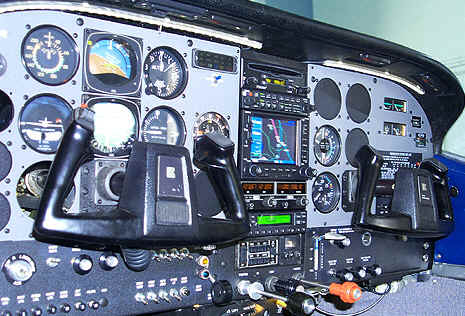 A few weeks later we John taxied his T210 to the hanger for the installation. After seeing some of our custom panel work, he decided he just had to have one for his Cessna; Tom Knoll fabricated the upper panels and lower switch panels to Johns liking.
The aircraft already had the King HSI and KFC-200 King A/P installed. Besides the custom work a lot of rewiring was completed behind the panel to make to make things look nice and work as they should. John wanted to hear the tunes while flying and picked out the PS-Engineering PXE7300 CD player with AM/FM and had us plumb it through the PMA7000 Audio Panel. By the way, the high quality stereo audio from this system is nothing less than outstanding when using the Bose X headsets; it's awesome. Of course the giant size GNS530 Com/ILS/GPS/Moving Map was installed under the audio panel with the King KX-155 under the big Garmin. Being John flies often in the Los Angeles area, he determined the Garmin GTX300 Mode S transponder would be the best traffic tool for him. You see, the GTX330 can display traffic on the huge GNS530 screen when operating in a Mode S environment.
Take a good look just under the glare shield; you'll notice some white lighting strips. The strips are approved for aircraft and make an excellent choice for secondary lighting. I tried to take some night shots using this white lighting but the shots just didn't do the lighting justice when using a digital camera. At this stage the panel isn't fully assembled, there's a couple of gages missing on the far left of the picture but as you can see, the panel looks outstanding, just what the customer wanted.